Iliofemoral and long saphenous valves
Iliofemoral and long saphenous valves
Anatomical studies on cadavers have defined the distribution of iliofemoral and saphenous valves (Table I and Figure 40).
Number
of valves

Frequency

Inferior vena cava

0

–

Common iliac vein

0

–

Internal iliac vein

0

–

External iliac vein

1

22-33%

Femoral vein

1

67-80%

Superficial femoral vein

1-4

(1:100%)

Profunda femoris vein

0

–

Popliteal vein

1

100%

Long saphenous vein

reinforced ostial valve
reinforced trunk valves
fine, transparent valves

1
2-3
6-20

100%
Table I: Distribution of iliofemoral and saphenous valves.
Paradoxically, 20% of individuals who Jack iliofemoral valves nevertheless remain free of varicose veins, which suggests that the ostial valve of the long saphenous vein, although directly subjected to variations of thoracoabdominal pressure, only becomes incompetent in the presence of a concomitant lesion of the vein wall.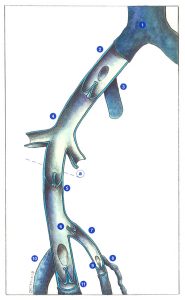 Further reading
Basmajian 1.V. The distribution of valves in the femoral, external iliac and common iliac veins and their relationship to varicose veins. Surg Gyn Obst, 1952, 95: 537.
Powell T., Lynn R.B. The valves of the external iliac, femoral and upper third of the popliteal veins. Surg Gyn Obst. 1951. 92 : 453.