Suprapubic varicose veins
Suprapubic varicose veins
The presence of suprapubic varicose veins must always be investigated by clinical examination. They occur in only two situations: most frequently in the case of internal iliac or common iliac thrombosis (Figure 37; A) and, more exceptionally, in the case of agenesis, hypoplasia or compression of an iliac vein.
In acute iliac thrombosis, the possible collaterals are situated in three planes (Figure 37)
a deep plane (presacral venous plexus),
an intermediate plane (visceral venous plexus),
a superficial subcutaneous plane (suprapubic venous plexus).
In the presence of suprapubic varicose veins, the phlebologist must ask himself two questions: are these varicose veins vicarious, ie, is the iliac vein still obstructed, and also, into which vessels do these veins drain?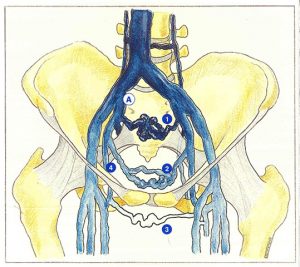 Suprapubic veins drain into the saphenofemoral junction (Figure 38), or directly into the femoral vein (Figure 39), or into an obturator véin (Figure 37).
Suprapubic varicose veins constitute a real therapeutic problem when they drain into an incompetent arch. They can be eliminated by surgical treatment of the saphenous vein. However, destruction of the suprapubic veins amounts to depriving the patient of one of the principal routes of shunting (natural Palma) in the case of thrombosis. Therefore, in view of the risk of recurrent thrombosis, these veins should only be eradicated in two situations:
when the suprapubic varicose veins are symptomatic (pruritus, heaviness, superficial thrombosis) and cause real discomfort;
when the long saphenous vein is incompetent and drains the suprapubic varicose veins.
Finally, before considering surgical correction of these varicose veins, the surgeon must confirm the absence of spontaneous flow (vicarious circulation) and flow during muscular compression of the contralateral calf, using an 8 MHz Doppler transducer.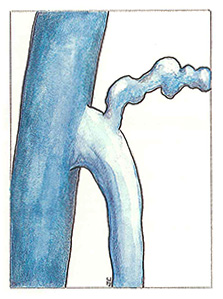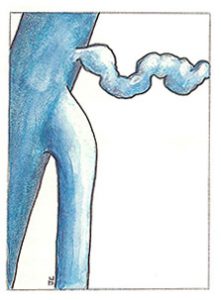 Further reading
Havor G.E., Galloway J.M. Collaterals of the deep venous circulation of the lower limb. Surg Gyn Obst, 1967, 125: 561.
Lea Thomas M., Posniak H.V. Agenesis of the iliac veins. J Cardiovascul Surg, 1984, 25 : 64.
Lea Thomas M., Fletcher E.W., Cockett F.B., Negus D. Venous collaterals in external and common iliac vein obstruction. Clin Radiol, 1967, 18: 403.