Plexiform junction
Plexiform junction
This variant creates a fenestrated vein appearance (Figure 19). Unlike caverno-mas and "neo-arches" resulting from a surgical procedure, the plexiform junction is congenital.
It consists of well-defined venous networks in which each vessel is smooth and regular with a diameter between 1 and 3 mm. In contrast, cavernomas arising after resection of the saphenofemoral junction are very dense with multiple branches (Click here). They are composed of irregular venules, with a diameter less than one mm, which revascularize an underlying venous trunk.
Although rare, the plexiform junction con stitutes a serious problem for the surgeon when it results in multiple junctions with the femoral vein. A femoral arterioplasty may be required in such cases.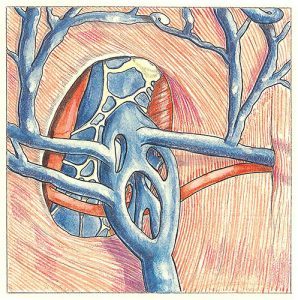 Further reading
Haeger K. The surgical anatomy of the sapheno-femoral and the sapheno-popliteal junctions, J Cardiovasc Surg, 1962, 3 420-27.